"Fear of Missing Out"
Produced by Spezial Editionz.

6 colour manual screen printing on 300gsm Gmund Matt.
Limited edition of 50.
Signed by the artist.
Numbered.
Embossed.

Printed in Barcelona at Serigrafía Monostereo.
Comes with a Certificate of Authenticity.
40 x 60 cm / 15,7 x 23,6 inches
2023
BUY NOW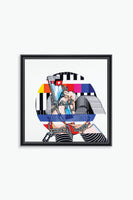 The matrix
Dimensions of work: 46 cm x 46 cm
VANGART presents the embroidered work of Jay Kaes "The Matrix" edited in 20 copies. 
BUY NOW
Jay Kaes Bearbrick 1000%
Original art toy entirely customized by Jay Kaes with acrylic, spray paint and marker - Authentic Medicom Be@rbrick 1000% delivered with its customized box, one of a kind - Signed by the artist (2023).
BUY NOW